The Tennessee College of Applied Technology welcomes veterans, service members, and dependents interested in completing a college education! Let us help you meet your goals as you transition from service to student.
Our college is the ideal environment for transitioning veterans to fulfill their higher education goals. TCAT military students enjoy the benefits of quality training with the recognition and honor they deserve.
We understand the unique challenges facing veterans, active-duty service members, guardsmen, reservists, and their family members in the pursuit of a college education. Your military background has been an incredibly important part of your journey so far, and we value the unique perspective you can contribute to our student body.
For more information about these programs, contact Veterans Services.
VA Education Benefits


If you need assistance with the application for benefits, you can contact the School Certifying Official [RW1] at the college for assistance.


If you are unsure of the benefits available to you, please contact the Department of Veterans Affairs at 1-888-442-4551 or 1-800-827-1000.


Monthly education pay is based on which GI Bill® the veteran is entitled to receive and the length of the qualifying military service. Current payment rates can be found by visiting the VA online rate tables. Post-9/11 GI Bill® recipients' tuition and fees payments will be sent directly to the school. Monthly housing allowance and books/supplies stipends are sent directly to the student.
Copies of the following documents must be submitted to the VA School Certifying Official (SCO), located in Student Services:
Certificate of Eligibility—1st day of training
DD Form 214—1st day of training
Post-secondary Transcripts—within two trimesters of beginning training*
*Upon admission into a program of study, the Department of Veterans Affairs (VA) requires that all students be evaluated and granted appropriate credit for any program related skills in which they show proficiency.
The SCO will certify the veteran's enrollment with the VA. Once the VA receives a veteran's enrollment information, it can take 6-8 weeks for payment to be received.
Enrollment Verification
To receive payment, students utilizing certain veteran education benefits are required to verify enrollment monthly. To see if you are required to verify your enrollment monthly to receive your monthly payment, please visit: https://www.va.gov/education/verify-school-enrollment/.
Failure to submit the appropriate VA documents to TCAT
Prior training for which you are granted credit
Breaks in training greater than 7 days
Failure to verify your enrollment
Drops or Withdrawals
Non-attendance
Post-9/11 GI Bill® (Chapter 33)
Montgomery GI Bill® - Active Duty (Chapter 30)
Veteran Readiness and Employment (Chapter 31)
Montgomery GI Bill® - Selected Reserve (Chapter 1606)
Survivors' & Dependents' Educational Assistance Program (DEA/Chapter 35)
NOTE: VA education benefits can only be used for full-time on-campus programs.
DD 214
Certificate of Eligibility
Military transcript
Students can access their information on eBenefits
Students can submit questions to the VA by the following methods:
Call the GI Bill® Hotline at 1-888-442-4551
GI Bill® is a registered trademark of the U.S. Department of Veterans Affairs (VA). More information about education benefits offered by VA is available at the official U.S. government website at http://www.benefits.va.gov/gibill.
Veteran Campus Certified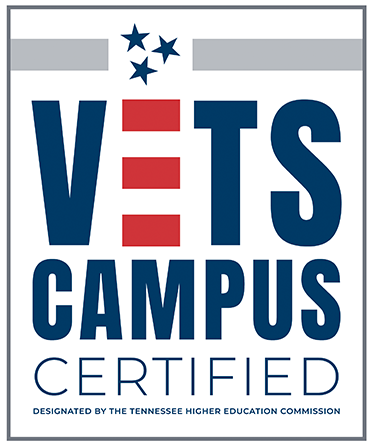 Our campus has earned VETS Campus certification by the Tennessee Higher Education Commission, certifying the college's commitment to programs and services to help veterans succeed as they pursue their education.
The VETS Campus program was established by the Tennessee Veterans Education Transition Support (VETS) Act, enacted by the state legislature in 2014 to assist veterans of military service in continuing their educations. The Act details a rigorous set of seven programs, requirements and qualifications that colleges and universities must meet to earn VETS Campus certification.
Veterans and active-duty military personnel may be eligible to earn academic credit for their military training and experience, depending on the applicability of the credit to their chosen program, under provisions of the VETS Act.
The Act requires colleges to prioritize outreach to the veterans, allocate resources for their successful transition from military service to college, and successfully deliver services that create a supportive environment where student veterans can prosper while pursuing their education.
The Tennessee Higher Education Commission (THEC) administers the program, awards certifications, and reviews the institutions for renewal of their certifications.
Specific requirements of the VETS Act include mentoring and support programs for student veterans; creating and maintaining a process for assessing prior learning that grants academic credit to veterans for transferable training and experience attained through their military service; conducting annual surveys of student veterans' views, needs, issues and suggestions; providing special orientation programs for student veterans; special outreach to veterans, and more.
---